!indexa-e.html>
---
JSAAE 26th Annual Meeting was finished successfully. Thank you very much.
Snap photos have been uploaded.
---





---
---
Conference period : December 19(Thu) to 21(Sat), 2013 ⇒ Calendar for December (in Japanese)

Venue: Kyoto Terrsa ⇒ Home Page (in Japanese) ⇒ Access Guide

Chairman of 26th Conference: Dr. Koichi IMAI (Osaka Dental University)

Chairman of Arrangement Committee: Dr. Hidenobu OKUMURA (Noevir Co., Ltd.)





























---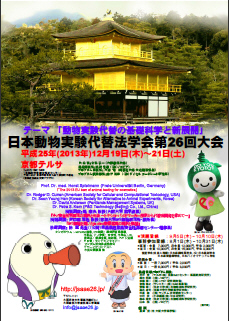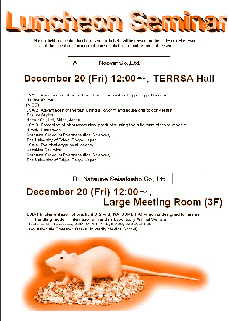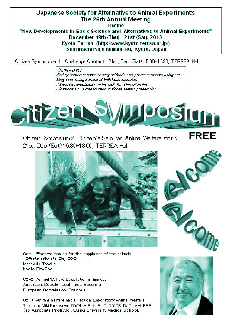 Greetings


26th Annual Meeting of JSAAE will be held from December 19 (Thu) to 21(Sat) in Kyoto Terrsa on the theme "New Developments in basic science and of Alternatives to Animal Experiments"
-->>> next

---

Pre-registration: August 1(Thu) - October 31 (Thu)

---Pre-registration was finished

---
---

---
---
Registration fee :

♦Pre-registration: General (Member of JSAAE: JPY7,000, Non member: JPY12,000, Student: JPY2,000)

♦Registration on site: General (Member of JSAAE: JPY10,000, Non member: JPY15,000, Student: JPY3,000)

*Society member's membership handling coordination

Banquet fee:

♦Pre-registration: General JPY7,000 / Student JPY2,000
♦Registration on site: General JPY8,000 / Student JPY3,000


---
Abstract Submission: September 5 (Thu) - October 10 24 (Thu)
ended


---
Best Poster Award Entry Form
---

* Collaboration of 26th JSAAE





---














---

Arrangement Committee (include the Program Committee) Board: (Titles omitted and listed in random order)
Dr. Hiroshi ISHII (Maruho Co.,Ltd. Kyoto R&D Center Drug Development Laboratories)
Dr. Koichi SAITO (Sumitomo Chemical Co.,Ltd., Environmental Health Science Laboratory)
Dr. Kunihiko YAMASHITA (Co-chair of Program Committee, DAICEL CORPORATION Central Research Center)
Dr. Maki NAKAMURA (KOBAYASHI Pharmaceutical Co., Ltd. Central R&D Laboratory)
Dr. Masakazu KATOH (Japan Tissue Engineering Co., Ltd., R&D Department)
Dr. Satoshi NAKAHARA (mandom corp. Technical Development Center)
Dr. Takeshi OMORI (Chairman of Program Committee, Faculty of Culture and Information Science, Doshisha University)
Dr. Takashi MORIMOTO (Sumitomo Chemical Co., Ltd. Environmental Health Science Laboratory)
Dr. Takashi SOZU (Kyoto University School of Public Health)
Dr. Takeshi KANAMORI (Sunstar Inc. H&B Business Unit)
Dr. Takuro UEKI (Noevir Co., Ltd.)
Dr. Yutaka YAMAMOTO (Noevir Co., Ltd.)

Dr. Tsutomu Miki KUROSAWA (Adviser)



Co-sponsored companies etc.(Random order)





























Co-sponsored companies by advertising on 26th JSAAE abstracts (Random order)





Co-sponsored companies by commercial exhibition (Random order)






















Co-sponsored company of Luncheon Seminar


Goods Provide
Kobayashi.Co.,Ltd.
Hatano Research Institute (HRI), Food and Drug Safety Center (FDSC)
Melodian Co., Ltd.
---


---
Call for Sponsorship: The 26th JSAAE Annual Meeting is looking for sponsors. (Sponsors, Exhibition during the event, Advertise on abstracts)(in Japanese) ⇒ File downloading (in Japanese)
















Conference office: Dept. Biomaterials, Osaka Dental Univ., 8-1 Kuzuha hanazono cho, Hirakata, Osaka573-1121, JAPAN
E-mail: info∗jsaae26.jp
(You need to convert the @ sign Mark ∗)














---
Kyoto TERRSA venue 10 minutes from JR-Shinkansen Kyoto Station and walk straight to the south. Japan Railway (JR), JR-Shinkansen, Kintetsu Kyoto Station and Kyoto Subway is a together station in the Kyoto city. You can also use a station on the subway or Kintetsu. There are so many hotels in Kyoto because it is a tourist city in the world. There are many hotels around the Kyoto Station. Sapporo also can be booked at about 5,000 yen per night. There are many tourist places in Kyoto city, of course, also go by express train to Kintetsu Nara and Asuka region useful. You can experience the interesting history even older if you go to areas south of Kyoto. The Kansai area including Osaka and Nagoya are many companies related to nanomaterials. You can also visit these companies are interested.

Kansai area around Osaka has three major airports. Kansai International Airport, Itami Airport, and Kobe Airport. These airport and fly to Sapporo is about 2 hours. The air tickets are extremely cheap you can always get a lot of travel agents in Sapporo. Departure from Kansai International Airport is convenient and smooth. Kansai International Airport is directly linked to many cities in Asia. There will be a memorable good trip rather than returning directly from Sapporo.








Also, you can go to Kyoto by super train (JR) from Hakodate or Toyako. New express train from Aomori to Hakodate are comfortable. This course goes through the longest under-sea tunnel in the world. From Aomori to Tokyo by Shinkansen train is approximately 3 hours. Tohoku Shinkansen to Aomori, which new opened last month. From Tokyo to Kyoto on the Tokaido Shinkansen is about two hours. Tokaido Shinkansen train will leave at intervals of 5 to 15 minutes. There is a very smooth transfer of all trains. You can admire the view of Japan. On the other hand, differs from course at the local transit Niigata, Sapporo to Osaka between express sleeper has a luxurious private rooms and shower.

---






---